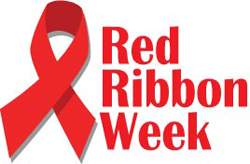 Monday, October 23:   Wear Red Day - Everyone will wear red to "kick off" Red Ribbon Week.  BMX Bikers will present a drug free message along with fun entertainment during an assembly for all grades outside at the steps in front of the auditorium at 1:45.  Please be seated and ready to begin the show at 1:45.  There will be adults outside helping with seating.    
Tuesday, October 24:  I Have the Power to Be Drug Free – Everyone wears their favorite super hero
shirt, super hero costume, or any clothing of your favorite character or "hero."

Wednesday, October 25:  Drugs are Tacky-Everyone wears tacky clothing, shoes, socks, hair

Thursday, October 26:  Put a Cap on Drugs - Everyone will wear their favorite cap or hat 

Friday, October 27:  Drug Free I can be ANYTHING I want to be - Everyone will wear their green spirit day (Indian shirts, jersey's, cheerleading, etc.) attire.  We will have Career Day from 8:30-2:40 and all classes will rotate to the career stations at different times throughout the day.  

Monday, October 30:  Say Peace Out to Drugs – Everyone wears neon bright colored shirts, tie dye shirts, peace signs, beads, headbands, etc.

Tuesday, October 31:   Say Boo to Drugs - Everyone will wear a Halloween costume.  First grade students ONLY will dress up as characters from The Wizard of Oz (this is part of their reading theme).  All costumes must follow dress code and be appropriate for a school setting with young children.  
*****ALL CLOTHING (INCLUDING COSTUMES) MUST FOLLOW SCHOOL DRESS CODE AND BE APPROPRIATE FOR A SCHOOL SETTING FOR YOUNG CHILDREN****